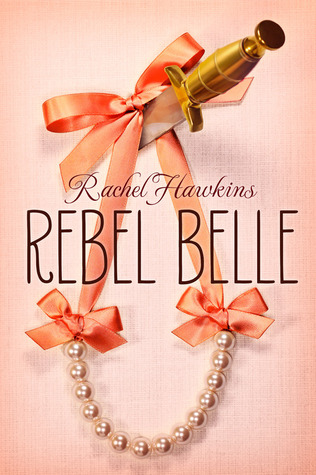 Title: Rebel Belle
Author: Rachel Hawkins
Pages: 352
Released: April, 2014
Where to buy: Bookdepository | Amazon
Harper Price, peerless Southern belle, was born ready for a Homecoming tiara. But after a strange run-in at the dance imbues her with incredible abilities, Harper's destiny takes a turn for the seriously weird. She becomes a Paladin, one of an ancient line of guardians with agility, super strength and lethal fighting instincts.

Just when life can't get any more disastrously crazy, Harper finds out who she's charged to protect: David Stark, school reporter, subject of a mysterious prophecy and possibly Harper's least favorite person. But things get complicated when Harper starts falling for him--and discovers that David's own fate could very well be to destroy Earth
The story starts at the night of homecoming, the perfect girl Harper Price knows she will be crowned as Homecoming Queen. However, during the dinner before they went to homecoming, she wiped here lipgloss off and now her lips are naked. Wow such disaster, she manages to borrow a lipgloss (in the wrong colour) from her best friend Bee and she goes to the bathroom to apply it.
Then a series of weird events occur while she is in the bathroom. At first the janitor Mr. Hall runs into the bathroom and he is dying because of blood loss. He starts talking to her and after a while he approaches Harper and kisses her in a weird way with cold air. This 'kiss' changes Harper's life, she becomes a Paladin. Then the history teacher enters the bathroon and he is carrying a sword, he goes after Harper and they start to fight. The fight lasts a while and Harper kills him. Harper finds out she has to protect her rival David Stark and she is not quite happy with it.
Yesterday afternoon I started reading this book and finished it that night, so I think it is a quick read and perfect for one sitting. The two main characters, Harper and David are different, but have some things in common. While reading this I enjoyed the fact that Harper was acting like a normal girl and that she wasn't as perfect as you would think in the beginning.
In the story you can see Harper change, in the beginning she would freak out about the colour of her lipgloss and later on she did not care about a torn dress.
The pacing in the book made it an easy read, it is action-packed and there weren't any boring parts where all the magic was explained or parts where she is brushing her teeth or something like that. To be honest, I really enjoyed reading this book but the ending was quite an anti-climax. Of course, a sequel of this book will come out, but after I've read it, it felt like a part of the story changed and needed to be explained later on.
However, I really enjoyed reading this book and I would recommend it to everyone who loves YA low-key fantasy and action packed books. So 3.5 out of five stars.